Cancellation of St Martins Summer Fayre 2012
It is with regret that the committee have taken the decision to cancel the St Martin's Summer Fayre which has traditionally been held on the first Saturday in July for the past three years. The proceeds of the fayre go back into the Parish of St Martins.
The organisation of the fayre was really down to six people who sat on the committee. Unfortunately, one of our members has moved out of the area, and two others will be away for an extended period of time this summer. Despite putting out an appeal for more volunteers to help us arrange the day, nobody has come forward. We simply needed more community spirited people to help. It is such a shame as we have the blue-print for successful day in place.
We would like to thank everyone who has participated in making the previous fayres so successful.
A decision regarding a 2013 fayre will be made later in the year.
For further information contact :Alison Kynaston Jones 01691 777671


Alison Kynaston Jones

St Martins Summer Fayre 2011 Grand Draw prize winners
1802 Horizon Motor Home weekend Hire Debbie Griffiths
1081 Toshiba 32" HD ready TV JB Powell
0043 Sekonda Gents Watch Philip Mead
1512 JA Milton Vouchers Justin Smart
0518 Liverpool Home Game tickets Mr Gasketh
1082 £50.00 voucher Stans plants Keith Richards
1578 Bottle of whisky Mrs J Farrell
1342 case of wine B Evans
1092 Full Monty Saturday breakfast for a year Mrs Groom
0632 Biscuits Derek Stokes
0217 Dog crate J. Armstrong
1126 Pet basket Ann Tomlinson
1644 Pet basket Doreen Killiner
Stans Trolley competition winner (£74.28) Tina Ellis


St Martins Summer Fayre
2nd July 2011
11am - 4pm
Held on the playing fields behind Stan's Superstore
St Martins Shropshire SY11 3AY
Applications are currently invited from stall/pitchholders
Click Here for a pitch/stallholder's application form

<<>>
St Martins Summer Fayre - Press Release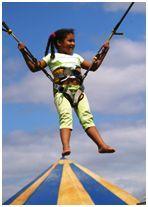 The Annual Summer Fayre is being held on Saturday July 2 from 11-4pm on the village playing fields behind Stan's Superstore. This year the event will be bigger and better than ever.
The organisers have booked several key events and attractions which include a chain saw carver, duck herding display , street dance troupe, circus skills workshop (for all the family) Alpacas, funfair, donkey rides, charity &commercial stalls, talent show, fun dog show, and helicopter rides. Last year they were so successful, that many people who hadn't pre- booked the flight were disappointed, so we felt it only fair to invite the helicopter back.
The chain saw carver will be working all day to create a sculpture that will be given to the village of St Martins. In addition there will be a smaller sculpture that will be auctioned on the day. All proceeds from the fayre go back into the Parish of St Martins.
If you are interested in booking a stall, please contact Alison Kynaston –Jones, (before May 3) on 01691 777671 ,or Pauline Hill (after May 3) on 07866 282854.
Places are limited and will be allocated on a first come first served basis. More information can be found on www.stmartins-online.org.uk or on our Facebook/St Martins summer fayre page.