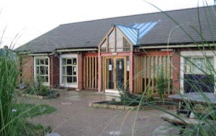 St Martins Centre/Village Hall
St Martins Centre, Overton Road, St Martins, Oswestry, Shropshire, SY11 3AY

Tel: 01691770204 e-mail: stmartinscentre@mail.com

Registered Charity No: 1088872
Chariman : Mr Steve Davenport Secretary: Sue Heard Treasurer: Helen Williams
Opening Times 10am till 2pm
Friday only at present.

Please pop in for a chat and tell us what you would like to see happening here at the Centre

The St Martins Centre is a multi purpose building with disabled access and facilities. It contains an activity room, large meeting room/lounge area, fully equipped computer room with Broadband access, fully equipped kitchen and changing rooms with shower facilities for sports users.
The facilities are run by a group of Trustees and are a charitable organisation.
Groups that use the facilities range from Youth Club to Parish Council and all facilities are available for hire.
To book a room please email SMC-Villagehall @outlook.com or go to stmartins.lemonbooking.com
Computer suite
Available to members of the public.
Shropshire "Broadplace" and "Hotspot"
Activity room available for
Book for meetings

Keep Fit Groups
Children's parties
Group activities – exercise clubs, crafts etc .


Lounge available for

Meetings

Training sessions
Lectures
PowerPoint presentations – OHP, digitel projector

and other equipment available

Changing rooms


Used by football teams
Facilities for the less able
Baby changing unit

Outside facilities

Toddlers play area with safety surface

Skate Park
Garden
Seating area
Kitchen Facilities
For bookings or further information Tel 01691770204 or

e-mail your request to SMC-Villagehall@outlook.com

*************************************************************************************************

COFFEE & CHAT

We are holding a COFFEE and Chat get togethers on Tuesdays at 10am. all welcome. Tea, Coffee, Cake, Toasties available FREE




Book Box

How many of us buy books, read them and just add them to the pile? The St Martins Book Box gives residents of St Martins, young and old, the chance to donate and borrow books and puzzles. Over 200 books have already been donated.


The St Martins Centre ( next to Stan's Shop) we will be open for both donations and borrowing along with the computer suite and refreshments. Membership is free.


IT WORKSHOP

Tuesdays 10am - 2pm

John and Paul are on hand to help with any IT issues just come along and talk to them about it.

Some of the young people who attend The St Martins Youth Club (Friday evenings 7.00 -8 pm)


For more information you can email us at stmartinsbookbox@yahoo.co.uk